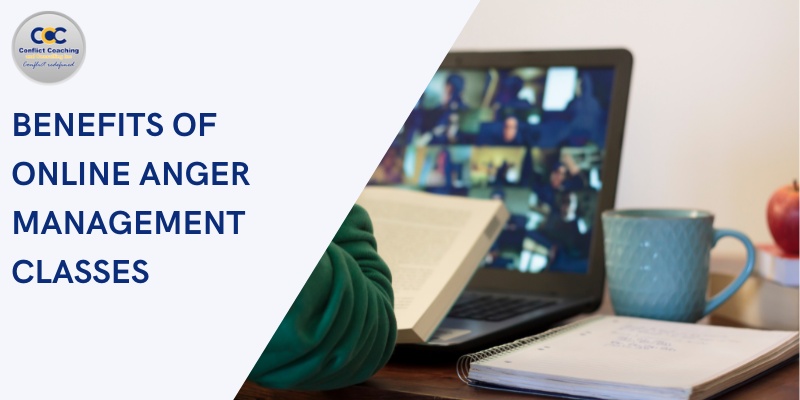 7 Benefits Of Online Anger Management Classes
Today, we are discussing the benefits of online anger management classes so you can understand why they are the best approach to dealing with anger issues!
As per the definition provided by the American Psychological Association, you experience anger as a result of your reaction to something done wrong to you.
There are advantages to feeling and expressing anger. Anger is a typical human emotion that develops in response to a perceived danger. It may spur positive transformation, offer security in uncomfortable situations, and give one a channel for expressing unfavorable emotions. Anger can accompany strong physical feelings commonly referred to as "hot" or a "rush." A racing heart and changes in breathing are symptoms.
But it's crucial to know the difference between constructive and destructive anger. If you don't know how to recognize and express it healthily, your anger may fester and become more challenging to control.
Advantages of Online Anger Management Programs
You and your entire family will benefit from taking anger management lessons. When you learn to control your anger, you won't have to watch in terror as your family members react to your outbursts. Instead, you will be able to chat about anything that is on your mind and find answers.
You will be equipped with the skills needed to effectively control your emotions and react positively rather than negatively to circumstances. The problems themselves might take center stage rather than your anger. Can you picture the impact this would have on your life and the lives of the people you care about?
Taking anger management classes has various advantages, including:
Acquiring self-control abilities and techniques for controlling emotional responses
Gaining an understanding of the sources of your anger
Knowing how to communicate clearly and discovering healthy methods to express feelings
Relationships are being improved, and skills are being developed to mend relationships that have been harmed by anger
Gaining access to resources you may utilize to moderate your reactions to circumstances and your anger
Using constructive means to communicate your feelings
Improved connections with your most significant relationships
According to research, anger management classes and therapies effectively manage anger. In addition, anger management programs can help you understand your body's response to angry emotions and identify anger triggers.
7 Benefits of Online Anger Management Classes
The following are some advantages of enrolling in an anger management class:
Helps you to overcome your anger
Improves your entire health, including mental health
Strengthens your relationship
Help you to learn about yourself
Enables you to take control of your emotions
Receive assistance on your own schedule
Virtualization makes it more affordable
Let's explore each of these advantages in detail to understand how you can avail these benefits of anger management programs.
1. Helps you to overcome your anger
An online anger management class can help you understand the factors or scenarios that trigger your angry emotions. This identification can help you understand the problem and focus on the possible issues.
These classes offer effective strategies such as breathing exercises, meditation, and yoga to control anger issues by controlling your breathing or posture.
2. Improves your entire health including mental
When it comes to health, mental health or well-being is often neglected. However, it is important to understand that any mental health issue will ultimately compromise an individual's overall health.
anger management programs are focused on improving the mental health of individuals suffering from anger issues. Using various practices and counseling sessions is standard and helps you improve your mental and physical health.
3. Strengthens your relationship
Anger outbursts can negatively affect your relationship. When you are angry, you manifest negative emotions towards your valuable relations. As the emotions become uncontrollable, you lash out at your friends, family, or loved ones.
The classes are focused on helping you deal with emotions constructively, you can maintain a healthy relationship. In addition, as the anger issues are controlled, your loved one will appreciate your efforts towards preventing your angry outburst.
4. Help you to learn about yourself
The classes on anger management focus on identifying the triggers that can help you learn about yourself. You can learn about your dislikes and likes along with the anger triggers.
As you explore your reaction to various triggers, you will understand your personality better and channel your emotions to other activities.
5. Enables you to take control of your emotions
Through various experiences, course material, and practices – online classes help you control your emotions. As anger is exhibited by violent emotions, taking control of your emotions can help you manage your anger.
Different techniques, such as exercise and breathing practices, work on other individuals dealing with anger issues.
6. Receive assistance on your own schedule
One of the essential benefits of enrolling in an online anger management class is to receive assistance on your own schedule. This benefit is vital as you can work on controlling anger issues without leaving the comfort of your home.
Considering you are studying or working somewhere, you cannot take time out of your busy schedule to attend a physical class. In such cases and to maintain your privacy, online classes play the role of a savior and assist you in controlling your emotions on your own schedule.
7. Virtualization makes it more affordable
One of the main issues with anger management approaches is the high cost of traditional counseling methods. The actual price of counseling adds to the fare and becomes high; as a result, patients often don't return for additional sessions.
In the case of online classes, you will not face these issues as you need to pay for the class once, and you are good to go! Furthermore, online classes offer affordable and helpful alternatives compared to counseling.
Conclusion
Teaching individuals how to control their anger through anger management classes is a recent practice. During anger management training, you will discover several methods to vent your anger in a healthy way. For instance, you may study peaceful communication methods or calming practices like deep breathing.
For people instructed by their employers or a court to work on their anger management abilities, anger management programs are frequently the best solution. As a result, the benefits of online anger management classes include certificates of completion as evidence of the student's hard work.
In addition, many of the strategies used in these programs have their origins in various types of therapy, so you cannot go wrong with online classes!